From Simple to Complex Abbess has you Covered!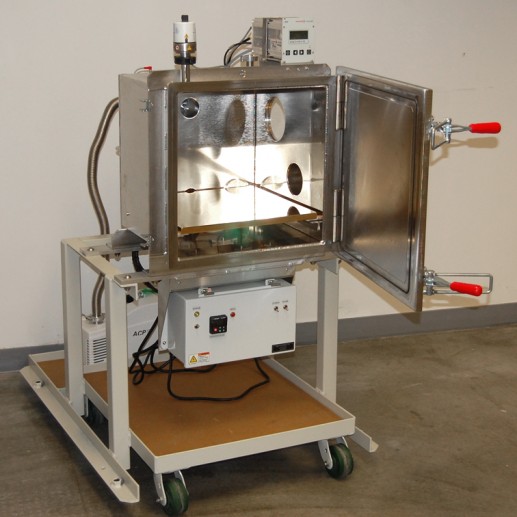 Abbess TVAC Thermal Vacuum Systems offer an integrated system solution for chamber environments where both vacuum pressure and temperature are crucial to a customer's process or test. Test chambers can involve thermal plates and shrouds in a variety of materials and finishes which are isolated from the chamber wall. Cartridge heaters and/or engaged piping can circulate LN2, direct expansion refrigerant gases, or specified thermal transfer fluid from an Abbess Snow River system®.
Abbess engineers will work with you to customize our TVAC systems to meet your needs. Customization can be achieved via the introduction of a wide range of feedthrough components for interaction with the Article Under Test, different control configurations, as well test data logging and process profile automation.
BENEFITS
allows you to bring testing and validation processes in-house, on schedule, and on budget
Configurable standard systems with good lead times that eliminate the issue of building your own TVAC system
Integrated, automated control of your testing process
TVAC SYSTEMS
Run pre-launch requirements such as performance verification, acceptance, and component qualification
Conduct material research, test orbit viability, and compile test data for pre-launch reports
Choose from standard cube sizes or a custom configuration
BAKE OUT SYSTEMS
Outgas contaminants and impurities to ensure optimal product performance
Integrate optional chiller for convenient thermal cycling system upgrade
Choose from standard cube sizes or a custom configuration
To get an accurate quote for the system you need fill out our RFQ or call today!
Thermal Vacuum Featured Products:
Thermal Vacuum Chambers
Thermal components can be integrated into any system in the temperature range of (cold)-320F/-196C to (Hot)+300F/150C with vacuum from atmosphere to 10-9 torr.