These Vacuum Systems are designed to be rugged and efficient for use in production or testing.
Some of our customers find this to be a practical size for use in vacuum degassing of liquids, plastics resins, and epoxies as well as drying parts or product. With optional thermal shelves, these thermal vacuum chambers can be very effective in degassing polymeric mixtures containing silicones, urethanes and epoxies. Many optional features may be included such as windows, lights, electrical feed-thrus and liquid feed-thrus and valves for filling molds in vacuum.
See also: Vacuum Oven Systems Overview
This chamber is also used in many other industries where vacuum work is required.
It is constructed of welded aluminum alloy with interior standard dimensions of 24″ high x 24″ deep x 24″ wide, custom dimensions are also an option. The door seal is now a (customer replaceable) 3/16″ thick O-ring seal to withstand repeated closings. Two draw latches close the front hinged door.
All chambers are vacuum tested to 29.92 inch(Hg) or better (10-4 torr) and should maintain this for its life dependent on seal condition and customer use.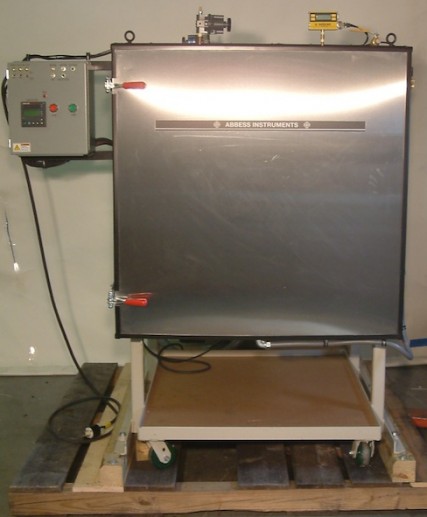 Materials:

Welded Stainless Steel or (special order Welded Aluminum)

Interior Dimensions:
Included Features:

Hinges located on the right hand side (customer may spec. other)
Vacuum connection 3/4 NPTF, located on lower rear
Vacuum Gauge on top left front, 1/8 NPTF vacuum gauge with a dial registering 0 to 30″ of Hg
Standard latches

Optional Features/Items:

2 Types of Custom Stands for pump and chamber
Heated shelves for keeping potted items at a controlled temperature for cure
Non-stick coating – Surfaces protected by a #8-403 PTFE non-stick coating
Lights
Manual Vacuum Break valve with defusers and metering control
Vacuum Regulator
Window: Full Transparent Window Door or quartz windows up to 6 inches
Cooled by chiller or cryogenics
Heated up to +400C
Rotary Mixing
Shelf brackets for Trays or Heated Shelves
Vacuum Break quick-connect 3/4 NPTF, top right front, with internal diffuser
Vacuum pumps and systems