CLC-1 Automatic Liquid Fill / Level Controller System, Complete with Transfer Line, Sensors, Cryogenic Valve and Controller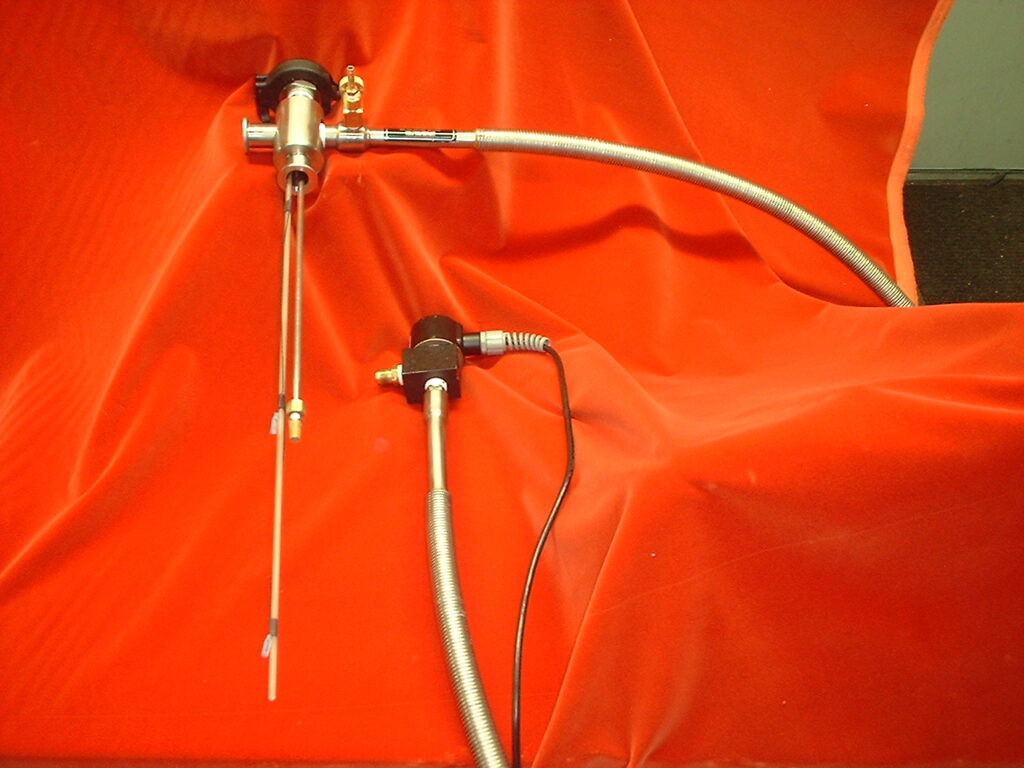 Many possible custom sensor layouts – each with different sensor placements, probe mountings, connections and venting options are available with our level controller.
YOU tell us what you want for your control probe.
Customer may order any type of probe
Sections have quick connection flanges (no tools required)
Temperature Range of 4K to 425K
Cryogen fill, vacuum/vent port, are KF-25 flange 1.00″ ID
Vacuum tight manifold provides for vacuum pumping of cryogen
One, 9 pin, Sub-min D type electrical/vacuum feed-through on a vacuum flange
All joints and seals to be helium leak tested to 1×10-7 Std. c.c./sec
Setup and basic operation manual included
Liquid Nitrogen Level Controller
The Liquid Level Controller uses two Liquid Sensors to maintain the nitrogen level in cryogenic reservoirs. The controller uses an on-board solid-state relay to operate a cryogenic solenoid valve. The will activate the relay when the lower sensor is no longer submerged in LN2. Filling continues until the upper sensor becomes submerged. The runs off 120VAC power and features an opto-isolated zero-volt switching relay.
Filling will begin when both sensors have become dry and continue until both sensors have become wet. As a safety feature, the controller will not initiate (or continue) a fill operation if either sensor is unplugged.
Features include:

Automatic 2-Point Control
Controller Override
Sensor Status Indication
Filling Indication
Complete solution
Low Cost
Easy Installation
1 Year Warranty
Specifications
Power: 120VAC @ 3Amps, 50-60 Hz (230VAC optional)
Fill Relay: 120VAC @ 2.5Amps, Zero-volt switching (230VAC optional)
Specifications are subject to change without notice.
To get an accurate quote for the system you need fill out our RFQ or call today!