This Custom Top Loading Chamber with Lateral Gliding Door Action was produced in answer to a customer's very specific requirements, and on an accelerated timeline.
Specific dimensions driven by the AUV (Article Under Vacuum) and configured to fit within the constrained footprint of the end user's production facility. This chamber took form quickly, as it was the idea of our integrated sales and engineering team. Abbess's agile manufacturing approach made the chamber system a working reality on a timeline considered in terms of days, not weeks or months!
Abbess Custom Chamber Systems are designed working together with Customer and End User process engineers and scientists from initial concept and quotation and through a controlled Design Approval Process . Mechanical drawings, models, and process and control schematics are presented for review and input before fabrication begins. Once approved Abbess's vertically integrated manufacturing responds with streamlined procurement of materials and fabrication by technicians answerable to the project's particular demands.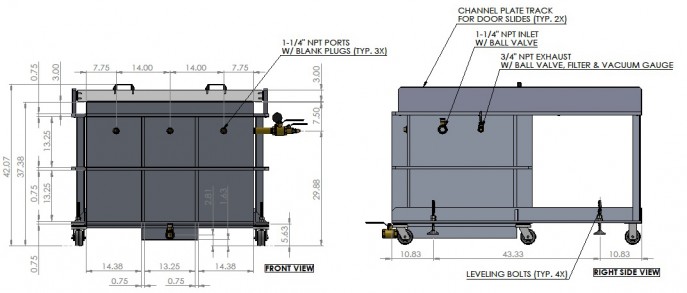 The Chamber enables a process where Infusing fluids can first be degassed within the chamber then product is conveyed to and loaded in from above. The custom chamber system is also complimented by a separate Abbess system that initially heats and degases the infusing agents.

Abbess's Lateral Gliding Doors can be easily integrated into chambers of different sizes.