Abbess offers a variety of in-chamber lighting options to meet our needs. From simple LED spotlighting to more advanced solar simulations, we can help you!
Accommodating lighting inside a vacuum chamber is not as simple as sticking a light to the ceiling of the chamber. Due to the nature of vacuum, traditional lighting options will overheat and disrupt your desired testing environment. Our engineers have developed numerous solutions to this problem.
To get an accurate quote for a system that meets your needs, fill out our RFQ or call today!
Featured Products:
Vacuum Chamber Lighting
Check-out Abbess's latest LED lighting options for in-vacuum illumination.
Thermal Vacuum Solar Simulation System
Abbess Thermal Vacuum and Solar Simulation Chamber Systems are designed and produced for use in laboratory production and testing applications requiring an exposure to or process within a controlled vacuum environment at specific temperature involving solar simulation.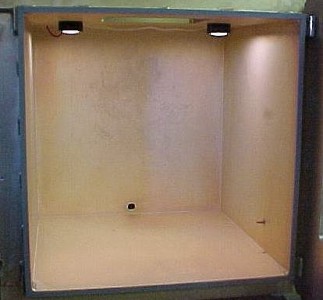 Take a look at the different lighting options for inside of an Abbess Instruments vacuum chamber.