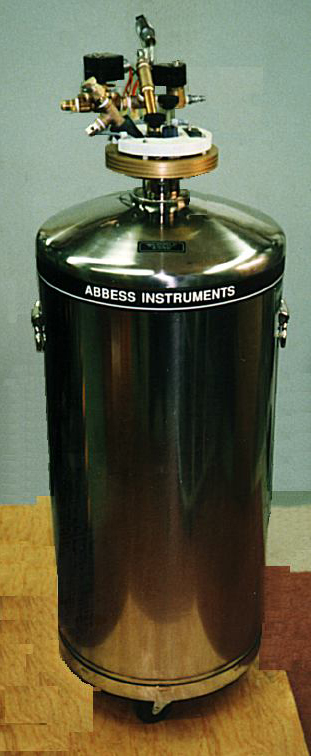 The Low Temperature Gas or/and Liquid Transfer or Supply System (LTSS) is designed to provide a controllable flow of single phase, constant low temperature gas or liquid cryogen. Optional Control Package allows a computer to measure pressure, liquid level and to control the flow of cryogen to the use point.
The typical LTSS System is composed of:
Low Temperature Supply System (LTSS)
Cryostat (Optional)
Superinsulated Transfer Line or Superinsulated Bi-Directional
Transfer Line (Optional)
Instrument Support Module (Optional) (See Abbess Instruments literature for additional information on optional equipment)
Uses
Magnetic Susceptibility
High Speed NMR Gyros
Temperature Dependent Process
Chemical Testing
Gamma Test Cells
System Specifications
Cryogenic
Temp. Stability: ±0.l K (depending on pressure and gas flow)
Max. Cooling Rate: 100K/Min/kilogram
Dewar Volume: 40 liters standard; 240 liters optional
Fill Port: .500 inch diameter, standard
Pressure: Vacuum to 39 psig
Physical
(40 liter Dewar with Gas/Liquid Control Generator)
Height: 42 inches
Diameter: 17 inches
Weight: 125 lb.