IR Cryostat with PGA (pin grid array) ZIF (zero insertion force) socket is both a side looker and a down looker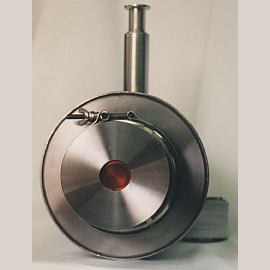 System Specifications:
LN2 dewar for IR detector with PGA ZIF socket.
Dewar is both a side looker and a down looker

The side looking can occur along one axis in order to keep the LN2 in the reservoir.
The system can be used in both orientations, changing from one to another can be accomplished reliably and quickly.

Variable Temperature Range of 69.5K to 400K, Indirect sample cooling by cryogen
Non-magnetic materials will be used through-out the design
Main Dewar, 1-2 liter cryogen capacity, approximate. dimensions 4 in. OD tail , 8 in. OD main body x about 20 in. long
Main Dewar will hold sample at below 80K for more than 3 hours in horizontal or vertical position
Vacuum port valve with KF flange, NW-10
Cryogen fill/vent port KF flange, NW-25
Flanges for electrical feed-throughs, supplied with mate, Qty 2

1 with 15 pin sub-min D for temperature sensor and heater connections
1 with 25 pin sub-min D for connection to grid array socket- others types optional

Tail Section with window, 1 inch dia. clear, mounted in end of tail section
Windows are to ZnSe or KRS-5 and transparent+/-5% to wavelengths of 10-20 microns
Windows are to be sealable with o-ring or indium seals
Windows are to tilted off axis by about 6 (+/-2) degrees
Copper, Field Baffle and cold shield
Sample Mounting block with heater and temperature sensor to match standard temperature controllers
Sample Space can be pumped to a vacuum of 10-7 torr
All joints and seals to be helium leak tested to 1×10-8 Std. c.c./sec
Other items included:

25/50 watt Heater
all wires and connectors to the sample socket
all wires and connections to the temperature controller
25 Phosphor Bronze wire connections to the sample socket

Basic manual for Assembly and use of cryostat
A drawing will be sent to you for your approval before manufacturing begins.